Resident Evil 8 will be released on May 7. Recently, AMD announced that it will work with Capcom to add the raytracing feature and AMD Fidelity FX effects to the PC version of Resident Evil 8.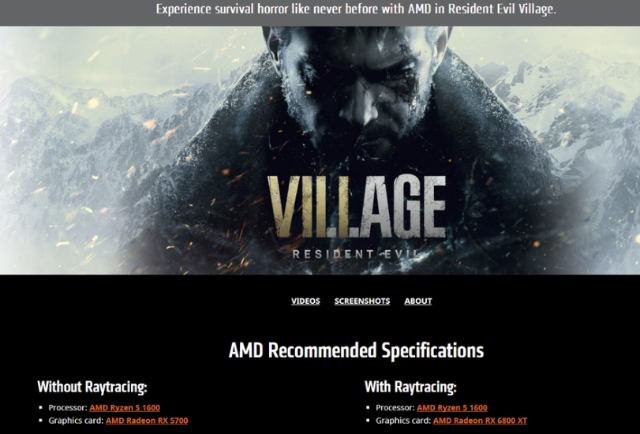 The AMD website says that the PC version of "Resident Evil 8" requires an RX6800XT graphics card to run smoothly with its raytracing function. the CPU requires AMD Ryzen 5 1600, which is a relatively low requirement.
AMD's official website released without raytracing and with raytracing requirements: without raytracing on, the recommended setting is a Ryzen 5 1600 processor and RX5700XT graphics card. With raytracing on, the recommended setting is Ryzen 5 1600 processor, RX6800XT graphics card.
It is unclear whether Resident Evil 8 will support NVIDIA GPUs with the raytracing effects when it is released. After all, the previous "Godfall" is an AMD Gpu optimized game, the PC version of the first release time, raytracing function does not support NVIDIA GPUs, only three months later added support for NVIDIA GPUs.